Kitchen Fires
9/7/2018 (Permalink)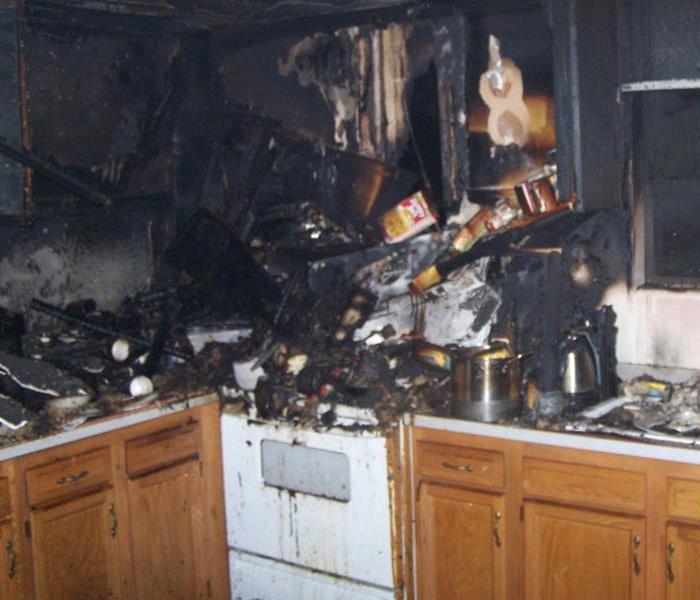 How to put out different types of cooking fires
According to the NFPA (National Fire Protection Agency) cooking fires are the number one cause of home fires and home injuries. When at home cooking in your kitchen, if a fire starts panic can start to set in and leave you scrambling on how to put it out. Here are different types of fires that can occur in your kitchen and how to put each of them out. And remember if you don't get the fire out in time before damage occurs, call SERVPRO® of Southwest Lubbock to make it "Like it Never Even Happened."
Grease Fire- You're heating up oil in a pot when you get a phone call. You turn your back to the stove and next thing you know your pot of oil has gone up in flames. Even though you may be tempted, you should never pour water on a grease fire. Why? Because water and oil don't mix and therefore won't put out the fire. The first step you should take is turning the stove off and seeing if you can smother the fire yourself. Salt and Baking soda are also good to throw on the fire. Make sure to call your emergency number if the fire can't be contained, and if any damage is done to your kitchen call SERVPRO.
Oven Fire- If something in your oven catches fire the best thing to do is turn off the oven and leave the door closed. This will cut off any oxygen and will allow the flame to die. If the fire does not go out, then contact your emergency number and vacate the premises.
Electrical Fire- Never use water on an electrical fire. If you have a fire extinguisher use that, and even if the fire is put out still make sure to call the fire department any time there is an electrical fire.
Remember after a kitchen fire if there is ever extensive damage be sure to call SERVPRO® of Southwest Lubbock at 806-780-6311 and we can make sure your home is back to normal in no time.