Sprinklers Emptying Completely In A Strip Mall
2/12/2019 (Permalink)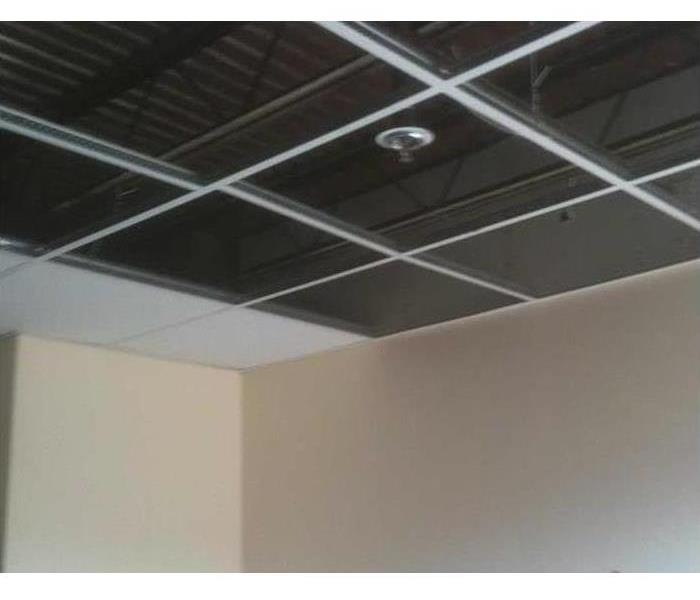 Sometimes a normal day working at a retail store could go terribly wrong. The weekend before Christmas, a Dollar Store had this nightmare. In the back of the store a customer decided to start lighting cards on fire. This caused the sprinklers to go off. This sprinkler system emptied out completely flooding the dollar store, bridal store, office supply store and a large back corridor where shipments are received. There was over 100,000 square feet affected with anywhere from 1 inch to 3 inches of standing water left in the area. After the fire department cleared, this was when SERVPRO of Southwest Lubbock was called in.
SERVPRO arrived quickly onsite to start scoping out the damages and what needed to be done first. The main priority was getting the water out of the areas and start drying as quickly as possible. SERVPRO called in all crews, a total of 15 people to work that Saturday. After 14 hours the first day, SERVPRO finally got all the water out of the areas ready to start the drying process. Demolition and disposal of some contents were completed both Saturday and Sunday of that weekend. Drying occurred throughout the week. SERVPRO not only set up equipment to get the stores open quickly on Sunday but continued to come back to the stores to setup equipment at night and return early in the morning to move equipment so the stores could stay open.
SERVPRO was there to help the commercial strip mall get back up and running as quickly as possible. We are truly ready for any size disaster. Call us 24/7 at 806-780-6311.