How You Can Prevent Mold In Your School Buildings
2/12/2019 (Permalink)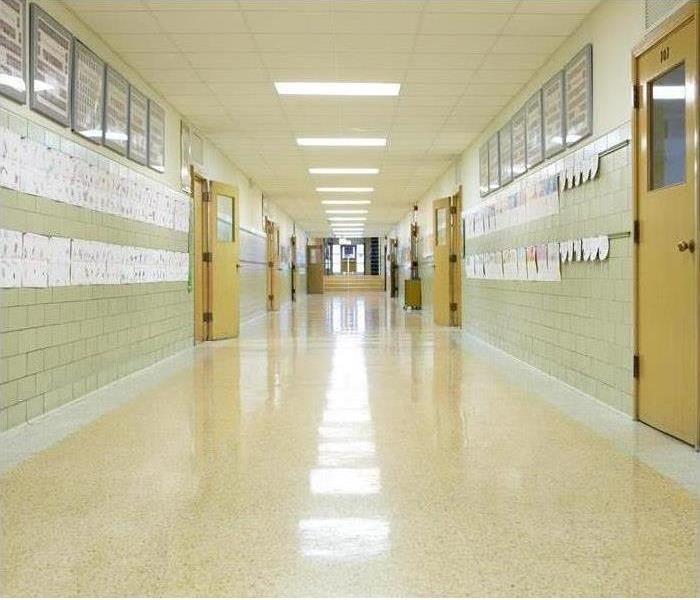 Although not visible to the naked eye, mold spores exist almost everywhere indoors and outdoors. Spores float in the air, grow on the ground and can even be present on indoor surfaces. All mold needs to grow is moisture, warmth, oxygen and organic matter for food.
Microscopic amounts of mold generally aren't harmful. However, larger populations can potentially cause serious health problems in those with allergies or weakened immune systems.
Below are three tips to prevent mold growth in your school district.
Tip #1: Keep on the HVAC system.
Over the summer, some school administrators make the mistake of turning off HVAC systems in order to save money. HVAC systems keep humidity in check and by turning them off you can potentially create the perfect environment for mold. While it may cost more to keep the HVAC system running, it can ultimately save you money in the long run.
Tip #2: Purchase a humidity sensor.
If keeping your HVAC system on in your school building is not an option, consider buying a humidity sensor. Rather than running the HVAC system day and night, a humidity sensor can allow you to track the levels of humidity in the air and turn on the HVAC system when necessary. According to Sensors Online, a humidity sensor works by detecting changes that alter electrical currents or temperature in the air.
Tip #3: Keep a watchful eye on problem areas.
Remember, the perfect environment for mold is anywhere that has moisture. Some problem areas might include storage areas, bathrooms or kitchens in a school. The earlier you are aware of a mold problem, the less likely you are to suffer costly damages.

The professionals here at SERVPRO are trained to help you with all of your mold remediation needs. In as little as 48 hours, a minor mold issue can quickly spread through a home or business. Once you contact us, we're dedicated to starting the remediation process quickly. This fast response lessens the mold damage, limits additional damage, and reduces the remediation cost. We are available 24/7 and can be reached at 806-780-6311.