Crime Scene Cleanup Support When You Need It in Lubbock
3/18/2019 (Permalink)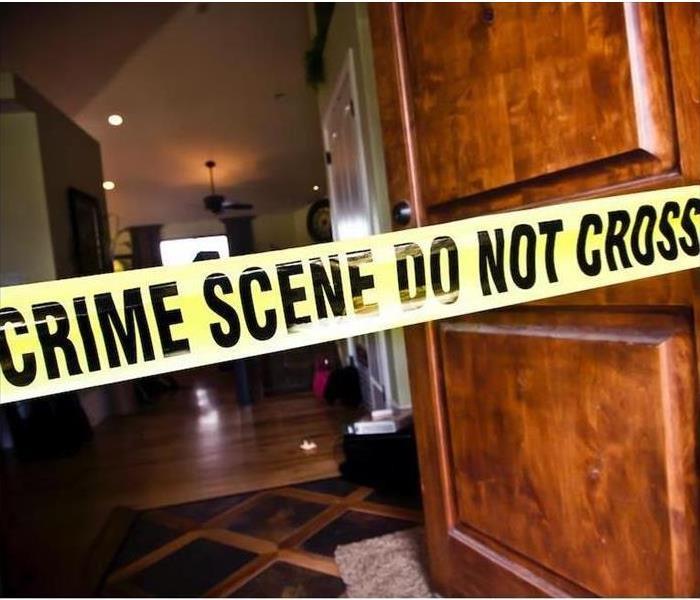 If your home suffers from a crime scene and has damage, contact SERVPRO of Southwest Lubbock to help with the clean up.
Homeowners in Lubbock and West Texas rarely plan a response to criminal activity on their property. Coping with all the aspects of your home becoming a crime scene is an emotional process, exacerbated by the need to arrange for cleanup after the legal authorities release the property. Our technicians have the training, the equipment, and the appropriate products to smooth this challenging process out for you.

The frightening or sad circumstances underlying the need for crime scene cleanup in Lubbock and West Texas are varied. A home invasion, the aftermath of a suicide, a domestic that turns deadly, activities like drug manufacture or dealing, and many other horrific scenarios can affect any of us given the stressors no one can predict. Innocent victims are left to sort out the debris and residues remaining, many of them hazardous and requiring professional handling. We specialize in an efficient and compassionate response to these life-altering events.

SERVPRO technicians master techniques that meet the IICRC Standard for trauma and crime scene cleanup. We arrive prepared to assess and plan for the particular situation, ready to begin the remediation immediately. The crew members know and carry out all federal, state, and local requirements as they complete each task in the plan, essential for your and your family's return to safe and comfortable living conditions.

Depending on the type of criminal activity the SERVPRO team cleans up substances and materials like the following:

Blood, bloodborne pathogens, tissue, and fluids.

Law enforcement and evidence collection residues including fire extinguisher residues, tear gas, pepper spray, and fingerprint dust.

Chemical residues used in drug making, cutting, and distribution.

The SERVPRO crew members then clean and disinfect the surfaces affected using EPA registered antimicrobials. All hazardous materials are bagged and disposed of according to the applicable laws for the appropriate jurisdiction.

We assess the physical damage done to structural components, fixtures, and furnishings. SERVPRO can offer pack out services for portable items contaminated with residues, working on restoration at our production facility. SERVPRO consults with your insurance or governmental entities to arrange for the repairs and restoration needed to return your home back to its pre-crime condition.

You are not alone in coping with the aftermath of criminal activity in your home when you work with the specialized cleanup crews from SERVPRO of Southwest Lubbock. Call (806) 780-6311 day or night to schedule a crime scene restoration consultation with one of our compassionate and competent project managers.