How Can I Mitigate the Effects of Standing Water in My Lubbock Business?
4/21/2020 (Permalink)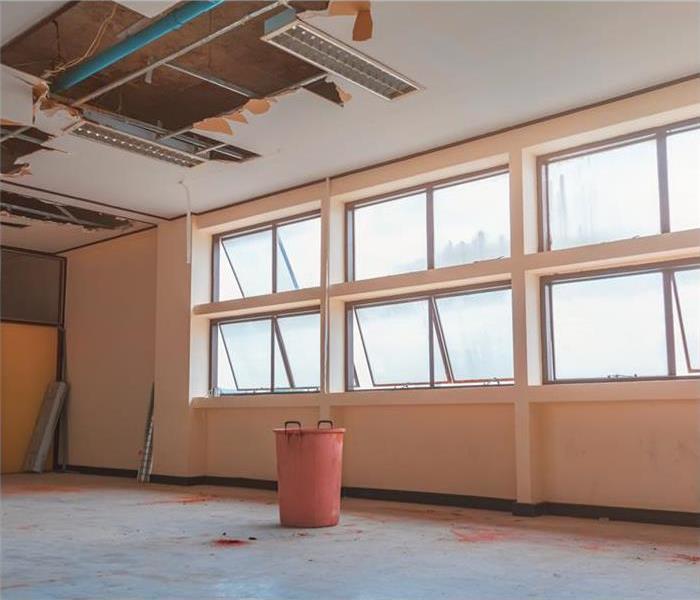 When water damage occurs, team SERVPRO is there to mitigate the situation and dry out your property. We are standing by 24/7 to take your call.
In Order to Protect Your Business from the Damaging Effects of Water, it is Essential that You Quickly Enlist the Services of Commercial Water Cleanup Professionals.
There are numerous ways in which your commercial establishment may experience standing water and related problems in Lubbock. Oftentimes, these issues result from roof leaks and storm damage, but they can also arise from faulty plumbing, operational accidents, and problems from neighboring businesses. These troublesome occurrences usually happen without warning and when you least expect them. They threaten your livelihood, damage your commercial site, and often affect neighboring establishments. Whenever such a water event befalls your business, it is crucial that you act fast and contact the right commercial water cleanup professionals.
When Faced with Water-Related Troubles, Who Should I Call?
Finding a commercial water cleanup service in Lubbock is easy, but some companies are better than others. One of the better area service providers is SERVPRO® of Southwest Lubbock, a company with advanced expertise, experience, and equipment to handle your job effectively. Our technicians understand the needs of impacted businesses and diligently work to meet them. They follow the Institute of Inspection Cleaning and Restoration Certification's (IICRC) and the Environmental Protection Agency's (EPA) guidelines to ensure that all work conforms to professional and governmental standards. Moreover, they effectively and efficiently complete all their work using the most advanced equipment currently available in the industry.
How Do We Clean Up Your Water Issue?
SERVPRO® employs several methods and uses a wide range of high-tech equipment to solve your water problem in Lubbock. The process we generally follow is:
Our technicians usually arrive on-site within four hours of receiving your call
Once on-site, workers secure the area
We evaluate your situation and work to prevent further damage
Standing water is removed
A drying goal is established
The moisture content of affected structural elements and contents is determined
We dry the structure and contents until the drying goal is reached
Our experts professionally sanitize and deodorize your business property
Each step of the process methodically works toward eliminating your water issue as quickly as possible. SERVPRO® technicians, following expert drying theory and using the industry's most advanced tools, endeavor to do the best job, save you time and money, and help you avoid potential losses resulting from water damage.
How Do We Secure Your Area and First Work to Prevent Further Damage?
SERVPRO® of Southwest Lubbock immediately gets to work on noting hazards and preventing further damage to your property. We initially take the following measures:
When our workers first arrive at your Lubbock location, depending on existing water levels, they note any hazards like dangerous electrical issues, falling ceilings, and collapsing floors, and post warning signs
Next, they shut-off or block water sources contributing to the problem and place tarps where they are needed to prevent further roof leaks, etc.
Then, depending on the situation, standing water is removed with submersible pumps, heavy-duty extractors, or wet vacs
How Does SERVPRO® Thoroughly Dry My Structure and Contents?
Your structure and contents are professionally dried in the following way:
First, we establish a drying goal based on local conditions in Lubbock and the moisture contents of unaffected structural elements and items
Using moisture sensors and meters, our professionals next determine the current moisture content of things in affected areas
Technicians then calculate the right ratio of air movers to dehumidifiers and place these around your business to dry out the air and its interiors
Wet areas behind ceilings and walls are dried with an injectidry system, which is connected to a dehumidifier-air mover network
Moisture sensors/meters and thermohydrometers are used to periodically measure moisture levels and determine when the drying goal has been reached
After SERVPRO® Dries My Lubbock Business, How Does It Attempt to Prevent Harmful Microorganism Growth and Unpleasant Odors?
Our workers are experts at eliminating fungi responsible for dry rot, as well as mold, and are often able to neutralize unpleasant odors. They do this by:
Employing thermal foggers in confined areas to deploy cleaners and deodorizers in the form of a dense fog
Using ultra-low volume foggers to inject fungicides and deodorants into difficult-to-access areas
Cleaning and painting over affected structural elements to seal in odors
Operating a business can be tough, but an unforeseen water crisis adds an additional layer of difficulty to your operation. When such trouble arises, you need to act fast to protect your facilities, inventory, and the surrounding businesses. As a responsible owner, you must also think about your customers, employees, and the adjacent business owners. If ever faced with such a problem, call SERVPRO® of Southwest Lubbock at (806) 780-6311 for help.