Fireworks: Keep Your Home and Family Safe
6/29/2017 (Permalink)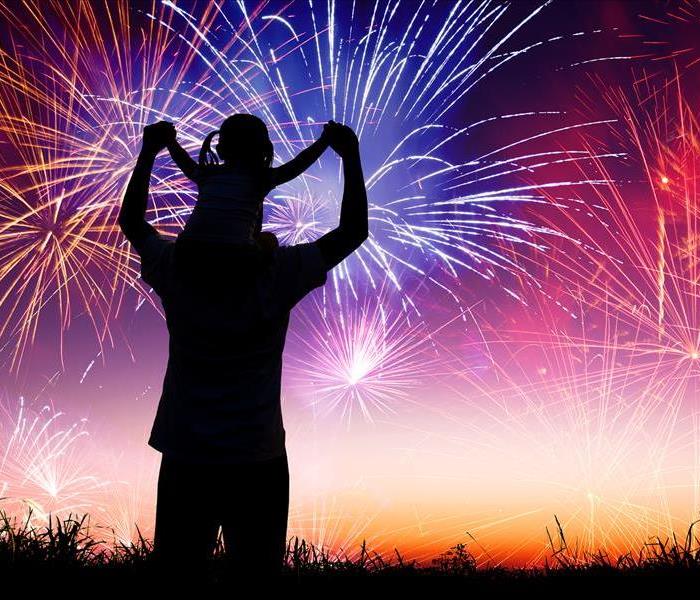 Fourth of July is right around the corner, and while we look forward to the time spent celebrating America through parades and fireworks, it's important to remember that setting off fireworks and playing with other goodies purchased from road-side firework stands comes with great responsibility. Whether you're celebrating the Fourth of July, or enjoying a barbecue with friends, it's always important to follow through with safe fireworks practices to protect you or your loved ones from the hazards fireworks could potentially have.
There are several safety measures to take when getting ready to pop fireworks: ranging from reading the directions on their packaging carefully, to being aware of the climate and your local laws referencing the use of fireworks. Here are 10 safety tips from the National Council on Fireworks Safety to help keep you and your family safe this summer:
Obey all local laws regarding the use of fireworks.
Know your fireworks; read the cautionary labels and performance descriptions before igniting and have a bucket of water on hand for spent fireworks.
A responsible adult should supervise all firework activities. Never give fireworks to children.
Alcohol and fireworks do not mix. Save your alcohol for after the show.
Do not hold a firework item in your hand.
Use fireworks outdoors in a clear area; away from buildings and vehicles.
Ensure all pets and animals are away from firework noise.
With the rise in stress-related disorders affecting American service men and women, pay special consideration to individuals who may be sensitive to loud noises in proximity to your fireworks show.
Never relight a "dud" firework. Wait 20 minutes and then soak it in a bucket of water before you discard it.
Dispose of spent fireworks by wetting them down and place in a metal trashcan away from any building or combustible materials until the next day. Have a bucket of sand available to put on grass fires or a fire extinguisher.
Fires can be devastating to your home or business. If in the event you are affected by fire damage this summer season, SERVPRO® of Southwest Lubbock has specialized fire damage restoration training experience to quickly restore your home to pre-fire condition. Until we can arrive to help, please see our tips on what you can do until help arrives.
You know you can count on SERVPRO® of Southwest Lubbock if disaster strikes. Stay safe this Fourth of July!
Have Questions about Fire, Smoke, or Soot Damage?
Call Us Today – (806)–780-6311