Turkey Frying Safety
11/21/2017 (Permalink)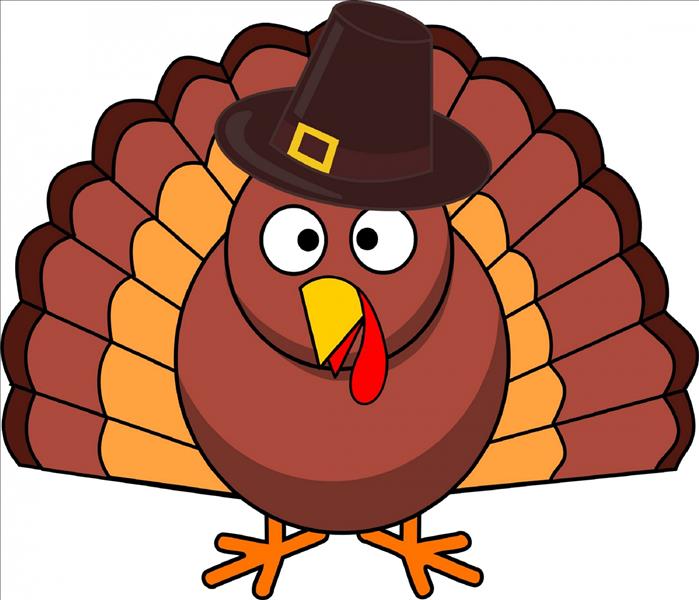 Thinking about all the delicious food for Thanksgiving dinner makes our mouth's water. Cooking this special meal is a meaningful time for many families. It's a moment to celebrate with the ones you love and enjoy the smell of the food ready to be set on the table. But many things can go wrong without the right precautions. Here at SERVPRO® we care about the well-being of you and your loved ones. This blog lists some important information to prevent any dangerous burns or fires when cooking the main dish; the turkey.
Keep your turkey in the freezer.
Put it in a place where you can monitor the temperature. When thawing the turkey, wrong temperature can cause bacteria to grow rapidly.
Use a food thermometer to ensure that the stuffing temperature reaches 165 °F.
Don't use glass pans to cook your turkey because it could shatter.
In the case you do use a glass pan and it breaks, turn off the oven immediately. Wait for the oven to cool off and use gloves to pick up the broken glass.
To avoid any glass from breaking, use an aluminum or steel pan to cook the turkey.
Juicy turkeys.
Many times, while the turkey is cooking, juice tends to drip put of the pan and cause fire sparks. To avoid this from happening, make sure to have two to three cooking syringes nearby. Check the turkey constantly and absorb the juice with the syringes.
Always use cooking mitts to avoid burning your hands.
Children in the house.
Make sure to place knives and hot pans somewhere they can't reach it.
Taking the turkey out of the oven.
Wait a few minutes for the oven to cool off. Ask someone for help when carrying the turkey out of the oven to avoid getting burned or dropping the turkey.
SERVPRO® wishes you a safe and enjoyable Thanksgiving around the people you love. Remember, in the case something goes wrong, don't hesitate to give us a call and we will help you deal with situations from fires to mold, to floods and much more! Our goal is to help minimize the interruption to your life and quickly make it "Like it never even happened." With a nationwide system of qualified franchises, no damage is too large or too small for SERVPRO® of Southwest Lubbock.