Commercial Restoration
3/19/2018 (Permalink)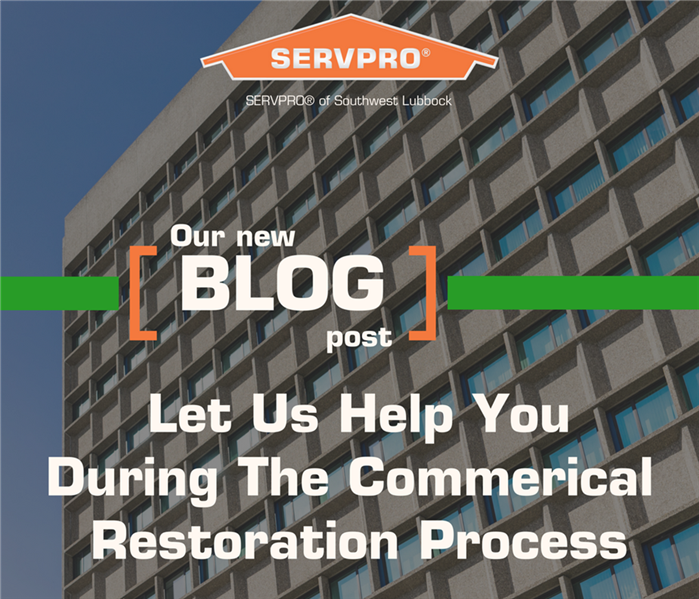 Recently we have seen an abundance of natural disasters take place all around the world, including destructive hurricanes and floods. And it doesn't just stop there; we have also experienced wildfires ravage through Southern California. Each one of these events resulted in the major destruction of people's businesses and commercial property. At SERVPRO® we know how devastating events like this can be for individuals who own commercial and private property, so we want to reassure you that we have the tools and skills to help you during the restoration process.
At SERVPRO® of Southwest Lubbock, we believe that no job is too big. We have an elite group of individuals who specialize in restoration. This group is referred to as the SERVPRO® Commercial Large Loss Division. We place these specialists across the country so that they are prepared to begin the restoration process immediately after a disaster occurs. Our SERVPRO® Commercial Large Loss Division is composed of highly trained and skilled individuals who specialize in commercial restoration. We want you to know that you are always in good hands if your commercial property ever gets damaged, no matter how big or small the damage is. Here is a list of some of our clients for the Commercial Large Loss program:
Property Managers
The Hospitality Industry
Universities
Municipalities
The Pentagon
SERVPRO® is dedicated to helping our customers, and we are always to prepared to assist you, no matter what the situation entails! Let us help you if your commercial property or buildings are ever damaged. Just give us a call 24/7 at (806) 780-6311.